1386 new cases of COVID-19 recorded in Nigeria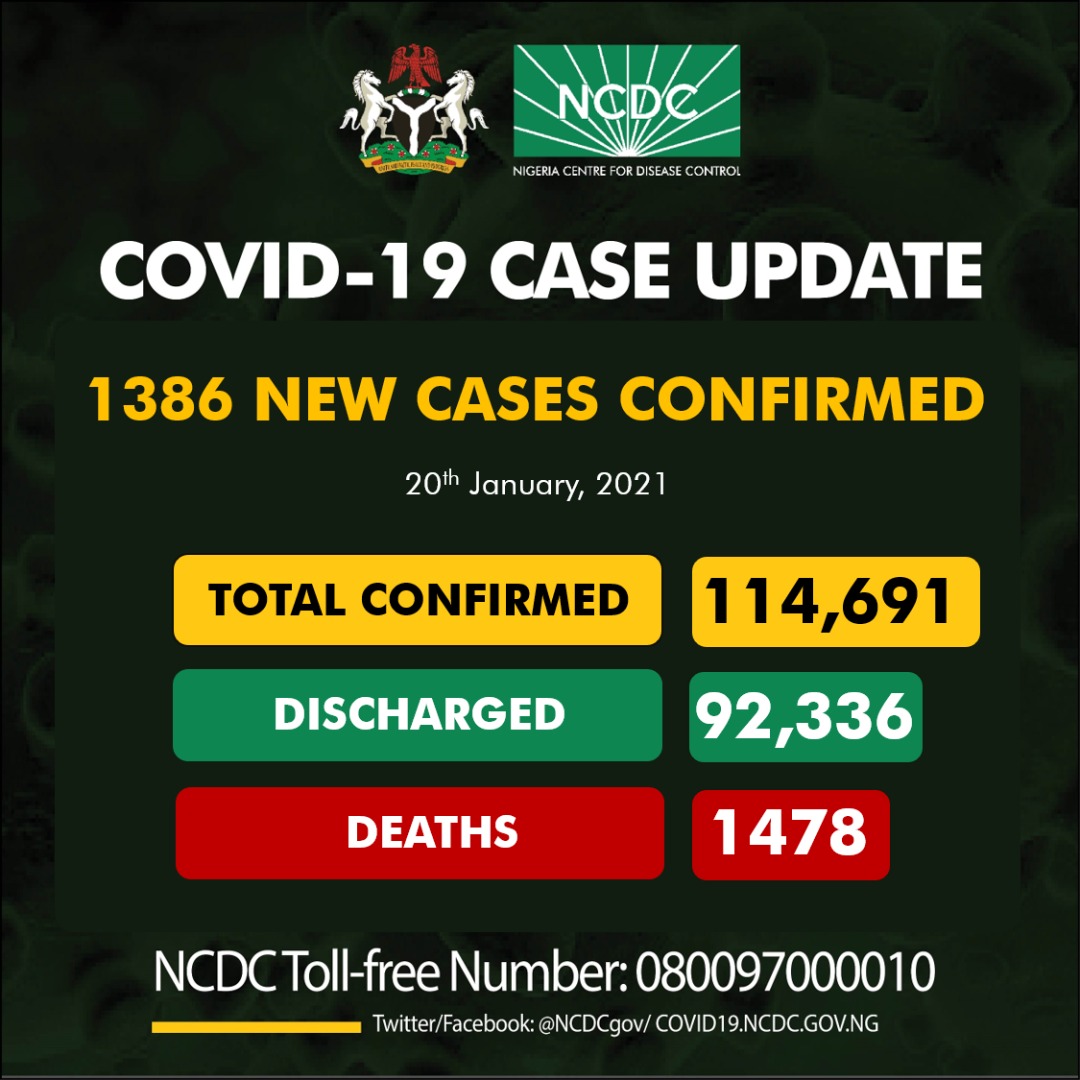 386 new cases of COVID-19 were recorded in Nigeria on Wednesday, January 20.
According to the Nigeria Center for Disease Control NCDC, Lagos recorded 476.
Other states with fresh cases include Rivers-163, FCT-116, Kaduna-114, Oyo-68, Plateau-62, Ogun-56, Imo-55, Osun-55, Edo-51, Anambra-50, Kwara-44, Kano-17, Ebonyi-14, Cross River-10, Delta-10, Jigawa-8, Bayelsa-6, Ekiti-6, Borno-2, Taraba-2 and Zamfara-1.
Nigeria now has 114, 691 cases of the disease. 92, 336 patients have been discharged while 1478 deaths have been recorded so far.
See a breakdown of the number of cases per states below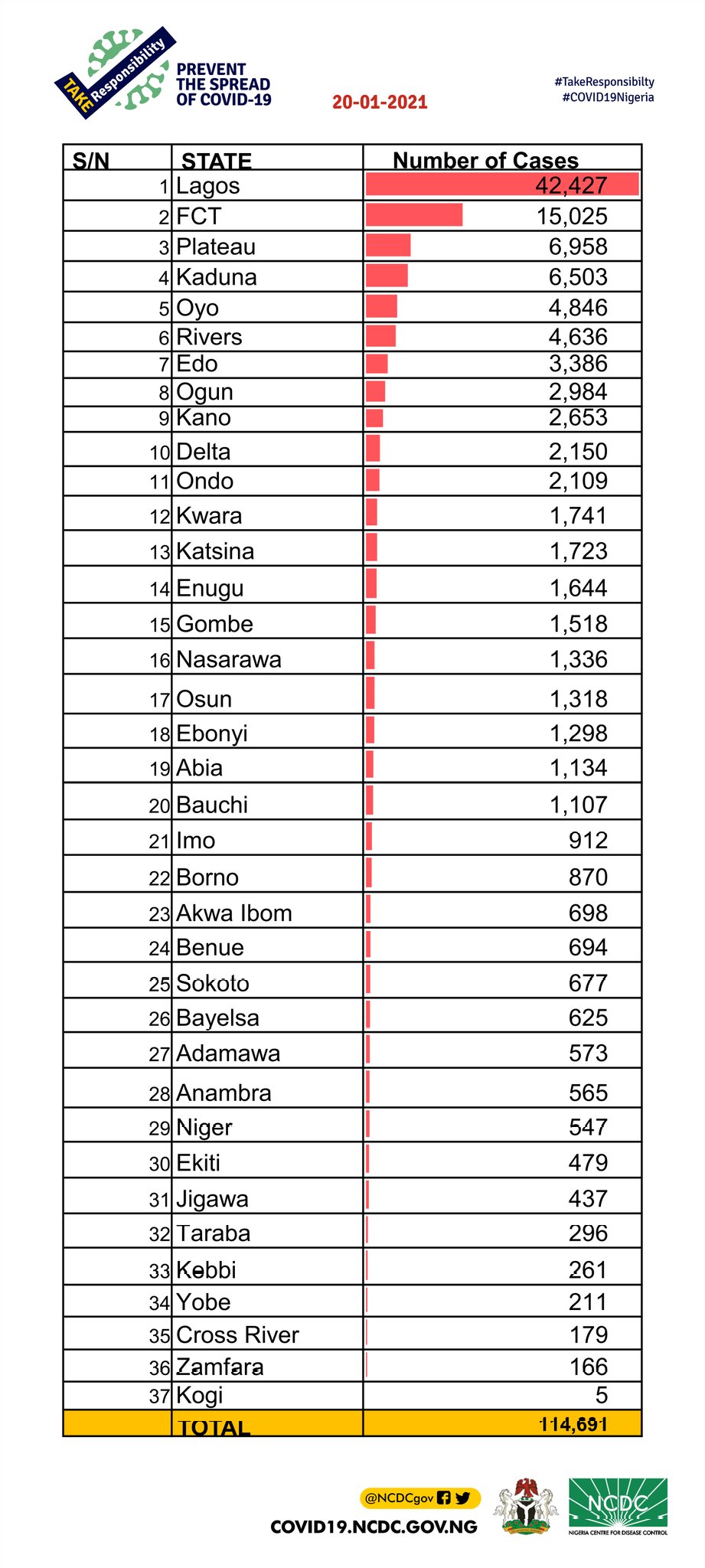 Buhari's successor must be Yoruba Muslim – Islamic group vows
The Muslim Rights Concern (MURIC), hss vowed that the next President of Nigeria must be a Muslim from the South Western region of the country.
The group wondering why no single Yoruba Muslim has ever ruled Nigeria since independence to date, argued that all Yoruba that have occupied the position have been Christians all along.
MURIC's argument is contained in a statement issued by its director, Professor Ishaq Akintola, on Friday, contending that Yoruba Muslims have been at the receiving end of political and religious persecution for too long.
It said in the interest of fairness and equity, it's time to allow a Yoruba Muslim occupy Nigeria's number one seat come 2023.
MURIC argued that even on the state level, Muslims in the South West have suffered marginalisation in the appointment of Commissioners and other political positions by Governors of Ekiti, Oyo, Ondo and Ogun.
"Are Yoruba Muslims third class or second class citizens? Are we not equal before the law?
"It is our strong belief that the narrative will only change when a Yoruba Muslim occupies Aso Rock. Who feels it knows it," MURIC said.
"Yorubas have been heads of state, president and vice president but all those who got there have always been Christians.
"So we have had three Christians of Yoruba extraction in Aso Rock at different times. It is therefore natural to ask why there hasn't been any Yoruba Muslim politician in Aso Rock all these years, particularly from 1979 to date?
"President Buhari's tenure ends in 2023 and the South West is already warming up. Will it still be fair for another Christian from the South West to occupy Aso Rock come 2023?
"Our message to all political parties is loud and clear. Yoruba Muslims will not support any non-Muslim presidential candidate put forward by any political party. To our brothers in the North, we call for solidarity for a Yoruba Muslim presidential candidate from any political party," he said.
Senate confirms Abdulrasheed Bawa as EFCC chairman
The Senate has confirmed the nomination for the appointment of Abdulrasheed Bawa as the chairman of the Economic and Financial Crimes Commission, EFFC.
The 40-year-old Certified Anti-Money Laundering Specialist was screened by the lawmakers at the Upper Chamber of the National Assembly today February 24.
Last week, President Buhari nominated Bawa and asked the Senate to confirm him as the substantive Chairman of the Commission.
He assumes office as the first core EFCC official and non-police officer to head the agency.
Bawa also became the youngest person ever to serve as chairman of the anti-corruption agency.
10 dead, 47 injured in fresh Boko Haram attack on Maiduguri
Ten persons have been confirmed dead and 47 others injured in the fresh attack carried out by Boko Haram members in Maiduguri, the Borno state capital on Tuesday night, February 23.
The insurgents stormed the city launching 10 rockets. Among the dead were nine boys playing football at Gwange, when rockets landed in the area.
The state governor, Babagana Zulum, last night visited the hospital where the dead and the injured were evacuated shortly after the incident occurred. He was told that 10 people were killed in the explosions that rocked the city and 47 others injured.