LIVE STREAMING
Catholic Mass Today Online 5th October 2020, 27th Week of Ordinary Time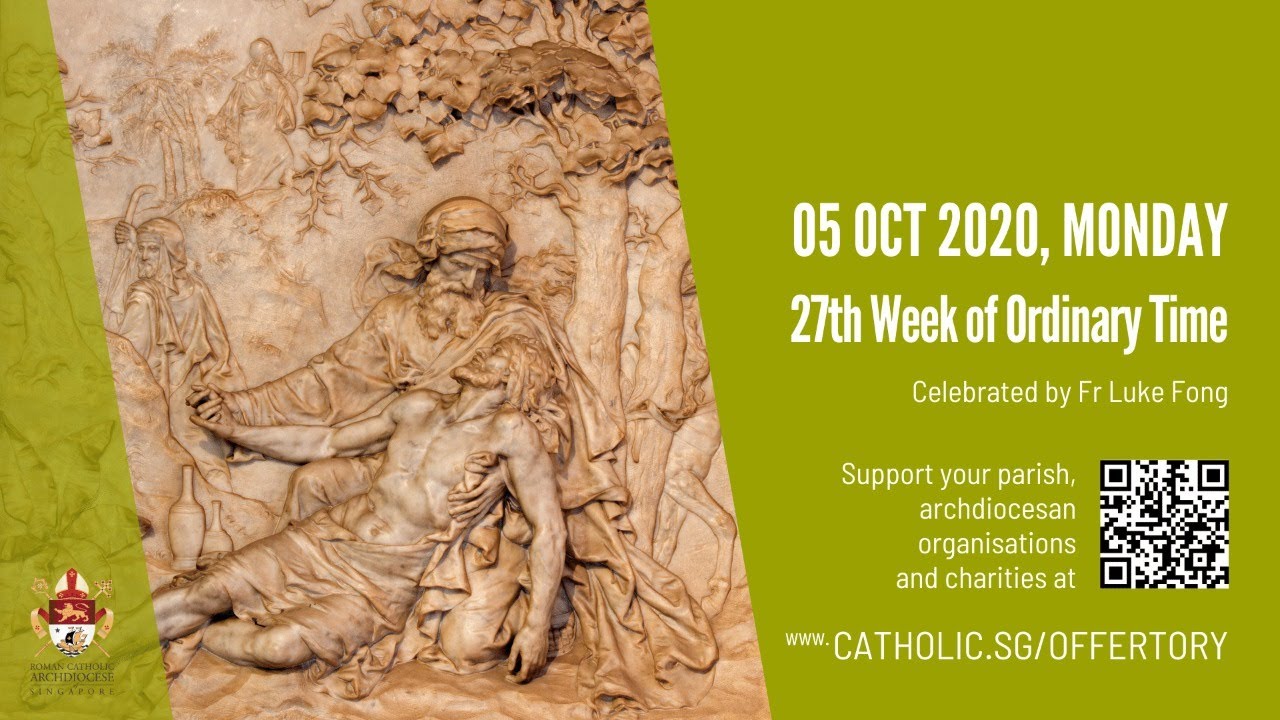 Catholic Mass Today Online 5th October 2020, 27th Week of Ordinary Time
Monday, 27th Week of Ordinary Time (5th October 2020)
Watch Live Mass Below;
Catholic Mass Today Online 5th October 2020, 27th Week of Ordinary Time
Mass Celebrated by Fr Luke Fong at the Church of the Immaculate Heart of Mary, Singapore
The celebrant for Masses on our channel for Wednesdays to Sundays is Archbishop William Goh.
The Catholic Mass today is celebrated all around the world. Here in Singapore, we are pleased to provide online, daily Catholic Mass live or recorded in English to all Catholics and anyone interested in the Catholic faith.
During Catholic Masses, it is not uncommon to hear a homily about Catholic teachings and Catholic answers to life's questions.
The Holy Mass is beautiful and stems from Jesus. Expect Catholic prayers, Catholic hymns (Christian songs) that come from 2000 years of tradition and practice. All are welcome.
Listen via online radio at https://www.catholic.sg/radio/
► MASS READINGS: • First Reading: Galatians 1:6-12
• Responsorial Psalm: Psalm 111:1-2,7-10 ("The Lord keeps his covenant ever in mind.")
• Gospel: Luke 10:25-37
First Reading: Galatians 1:6-12
6
I am astonished that you are so quickly deserting the one who called you to live in the grace of Christ and are turning to a different gospel—
7
which is really no gospel at all. Evidently some people are throwing you into confusion and are trying to pervert the gospel of Christ.
8
But even if we or an angel from heaven should preach a gospel other than the one we preached to you, let them be under God's curse!
9
As we have already said, so now I say again: If anybody is preaching to you a gospel other than what you accepted, let them be under God's curse!
10
Am I now trying to win the approval of human beings, or of God? Or am I trying to please people? If I were still trying to please people, I would not be a servant of Christ.
11
I want you to know, brothers and sisters, that the gospel I preached is not of human origin.
12
I did not receive it from any man, nor was I taught it; rather, I received it by revelation from Jesus Christ.
1
Praise the LORD.I will extol the LORD with all my heart in the council of the upright and in the assembly.
2
Great are the works of the LORD; they are pondered by all who delight in them.
7
The works of his hands are faithful and just; all his precepts are trustworthy.
8
They are established for ever and ever, enacted in faithfulness and uprightness.
9
He provided redemption for his people; he ordained his covenant forever— holy and awesome is his name.
10
The fear of the LORD is the beginning of wisdom; all who follow his precepts have good understanding. To him belongs eternal praise.