LIVE STREAMING
Catholic Sunday Mass Today Live Online 18th October 2020 Singapore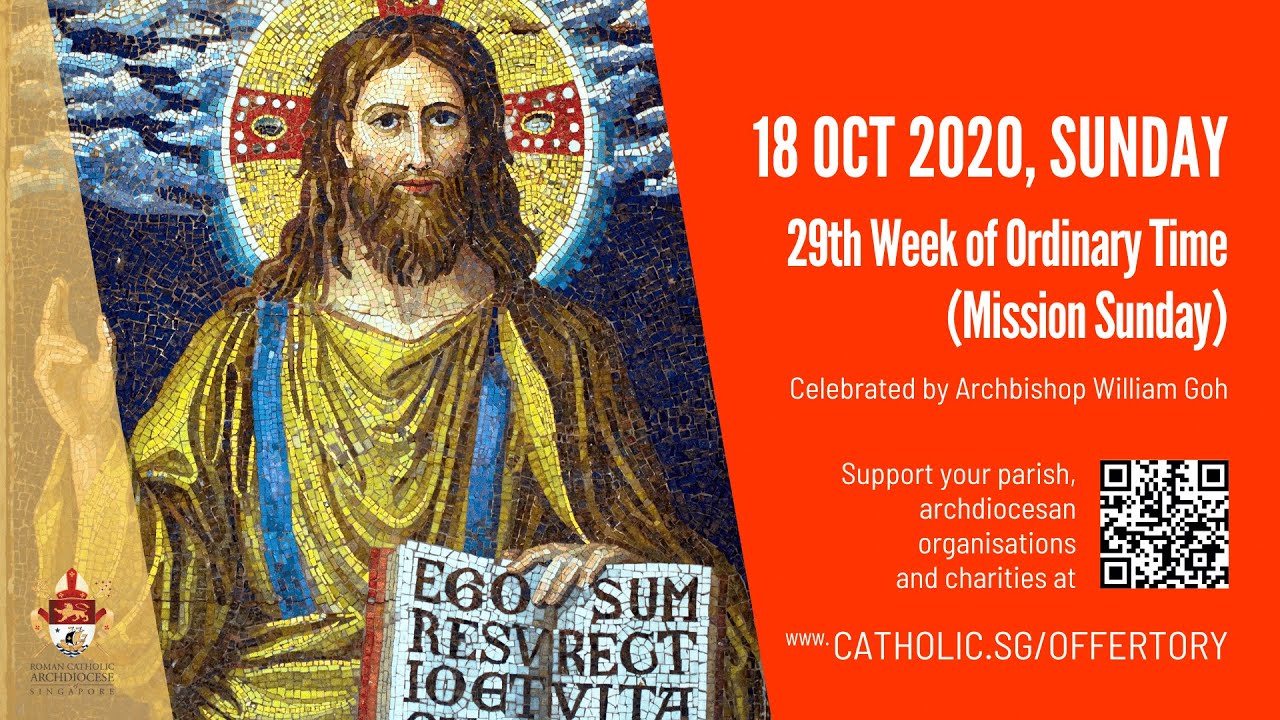 Catholic Sunday Mass Today Live Online 18th October 2020 Singapore, 29th Week of Ordinary Time
WHERE DOES YOUR ALLEGIANCE LIE – STATE OR GOD?
Sunday, 29th Week of Ordinary Time 2020 (Mission Sunday) (18th October 2020)
Mass Celebrated by Archbishop William Goh.
The celebrant for Masses on our channel for Wednesdays to Sundays is Archbishop William Goh.
The Catholic Mass today is celebrated all around the world. Here in Singapore, we are pleased to provide online, daily Catholic Mass live or recorded in English to all Catholics and anyone interested in the Catholic faith. During Catholic Masses, it is not uncommon to hear a homily about Catholic teachings and Catholic answers to life's questions.
The Holy Mass is beautiful and stems from Jesus. Expect Catholic prayers, Catholic hymns (Christian songs) that come from 2000 years of tradition and practice. All are welcome.
Watch Sunday Live Mass Below;
Catholic Sunday Mass Today Live Online 18th October 2020 Singapore
Read Catholic Daily Mass Reading Sunday 18th October 2020 Online
Reading 1, Isaiah 45:1, 4-6
Responsorial Psalm, Psalms 96:1, 3, 4-5, 7-8, 9-10
Gospel, Matthew 22:15-21
Reading 2, First Thessalonians 1:1-5
Reading 1, Isaiah 45:1, 4-6
1 Thus says Yahweh to his anointed one, to Cyrus whom, he says, I have grasped by his right hand, to make the nations bow before him and to disarm kings, to open gateways before him so that their gates be closed no more:
4 It is for the sake of my servant Jacob and of Israel my chosen one, that I have called you by your name, have given you a title though you do not know me.
5 I am Yahweh, and there is no other, there is no other God except me. Though you do not know me, I have armed you
6 so that it may be known from east to west that there is no one except me. I am Yahweh, and there is no other,